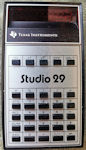 AKA (Label): electronic calculator, Product number (P/N): Studio,
Keywords/Tags: Studio | 29
Date of intro: ~1977, Origin: Italy (List), Dimensions: 148x78x36mm, Weight: 114g,
Power: 9V + Adaptor, Adaptor: TEXAS INSTRUMENTS_adaptors: AC9900R, Other power-items: TEXAS INSTRUMENTS_parts: RK2,
Display: Type = Display (LED) (List), Digits = 8+1,
Number of keys: 30, #Key-Black: 30,
Classification: / Pocket,
Featuring: Scientific functions, Procent, Square root, PI, Memories: 1,
Main Components: TEXAS INSTRUMENTS: TMC0981NL,
Serie-members: TEXAS INSTRUMENTS: 29 (version-1) KOH-I-NOOR HARDTMUTH (Yellow version); TEXAS INSTRUMENTS: 29 (version-2) KOH-I-NOOR HARDTMUTH (Silver version),
Known Serial-numbers: 4452174278RCI (445217, 4278RCI) (List of all S/Ns from TEXAS INSTRUMENTS)
Collector value: 8,5/10,
Courtesy of: ELIFANI Angelo,
Internet: Link-1: DATAMATH CALCULATOR MUSEUM

!!! This item is WANTED to join the collection !!!
Item