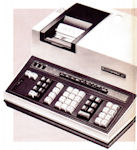 AKA: RICOH MONROE,
Date of intro: 1970, Origin: USA (List), Dimensions: 406x356x165mm,
Power: AC,
Display: Type = Display (None) (List),
Classification: / Desktop with Printer,
Featuring: Scientific functions, Square root, Programmable, Memories: 10, Programmable Steps: 128/256,
Related with: RICOH_docu: (Cat.) Japanese,
Resemblance with: MONROE: 1665, Made by: COMPUCORP (List of all Import-OEM-models for RICOH),
Initial Cost Price: 1490000 JPY (€ 12.069,00), Collector value: 8.5/10,

!!! This item is WANTED to join the collection !!!
Item