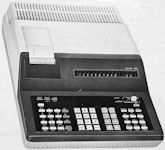 AKA: hunor 301, Product number (P/N): 301,
Keywords/Tags: 301 | hunor
Date of intro: 1977, Origin: Hungary (List), Dimensions: 400x300x90mm, Weight: 5000g,
Power: AC,
Display: Type = Display (VFD tube) (List), Brand = NEC: LD8035F, Digits = 14+1,
Number of keys: 53,
Printing technology: Printer (thermal),
Classification: / Desktop with Display+Printer,
Featuring: Programmable, Programmable Steps: 512,
Main Components: INTEL: D4040,
Info: (From Catalog):
Easy handling and programmability facilitates the 301 calculator to be used for technical-scientific computation.
The following operations ore provided:
- Trigonometric functions and their inverses. basic, chained and constant operations,
- 9 level bracket handling,
- Memory operations with direct, or max. 15 level indirect addressing,
- Direct, indirect, labelled addressing facilities for carrying out the unconditional, conditional skip and subroutine instructions.
In basic configuration 50 data registers and 512 programs steps are included in the operative memory (this can be extended to 100 data registers and 1000 program steps).
From among the programs of the program library, up to 15 programs can be used as operational functions.
Contents of the main operative registers (X, Y, K) and the program register can be displayed on the one-line display.
The contents of these registers con also be printed by a thermal printer onto a heat-sensitive paper strip.
The thermal printer is suitable to preparing program lists as well as to special alpha-numeric character printing.
Internet: Link-1: VIRTUAL MUSEUM OF CALCULATORS

!!! This item is WANTED to join the collection !!!
Item