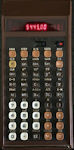 AKA (Label): Electronic Calculator, MODEL PR-100, PART NO. 201392-03, Product number (P/N): 20139203 (201392-03),
Keywords/Tags: 20139203 (201392-03) | PR100 (PR-100)
Date of intro: ~1977, Origin: United Kingdom (List),
Power: Rechargeable,
Display: Type = Display (LED) (List), Digits = 8+1+(2+1),
Number of keys: 45, #Key-Brown: 33, #Key-White: 11, #Key-Yellow: 1,
Miscellaneous switch: [CLR-LD-RUN],
Classification: / Pocket,
Featuring: Scientific functions, Procent, Square root, PI, Programmable, Logic-technology: LSI (Large Scale Integration), calculator-chipset, Memories: 10, Programmable Steps: 72,
Original Equipment Manufacturer : COMMODORE: PR100 (version-2) (List of all Export-OEM-models from COMMODORE), Resemblance with: HIRADASTECHNIKA SZOVETKEZET: PTK1072 (version-2),
Serie-members: COMMODORE: PR100 (version-1) (Version with rounded corners, no slanted top); COMMODORE: PR100 (version-2) (Version with no rounded corners, slanted top),
Known Serial-numbers: 170916 | 179279 (List of all S/Ns from COMMODORE)
Collector value: 8/10,
Internet: Link-1: R/S Programmable Calculators, Link-2: VINTAGE TECHNOLOGY

!!! This item is WANTED to join the collection !!!
Item