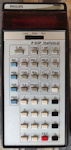 AKA: P-63P Statistical, Product number (P/N): P63P (P-63P),
Keywords/Tags: P63P (P-63P) | Statistical
Date of intro: 1975,
Power: 9V,
Display: Type = Display (LED) (List),
Number of keys: 36, #Key-Black: 4, #Key-Blue: 4, #Key-Beige: 15, #Key-Red: 1, #Key-White: 12,
Miscellaneous switch: [Load-Step-Run],
Classification: / Pocket / Statististics+Probability,
Featuring: Procent, Square root,
Made by: NATIONAL SEMICONDUCTOR (List of all Import-OEM-models for PHILIPS),
Collector value: 8/10,
Courtesy of: ROEST David,

!!! This item is WANTED to join the collection !!!
Item