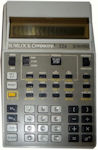 Product number (P/N): 326,
Keywords/Tags: 326
Date of intro: 1973, Dimensions: 230x130x50mm, Weight: 1600g,
Power: 6V: (D x4) + AC,
Display: Type = Display (Gas disharge) (List), Digits = 16,
Number of keys: 43, #Key-Black: 26, #Key-White: 16, #Key-Yellow: 1,
Miscellaneous switch: [GRAD-DEG RUN-STEP-LOAD PROGRAM-REGISTERS],
Classification: / Desktop with Display,
Featuring: Scientific functions, Square root, Programmable, Logic-technology: LSI (Large Scale Integration), calculator-chipset, Memories: 12, Programmable Steps: 160,
Original Equipment Manufacturer : COMPUCORP: 326 (List of all Export-OEM-models from SUMLOCK ANITA ELECTRONICS), Resemblance with: ATAIO: 326; MONROE: 326, (Resemblance 527), Made by: COMPUCORP (List of all Import-OEM-models for SUMLOCK ANITA ELECTRONICS),
Collector value: 8.5/10,
Internet: Link-1: CENTRE FOR COMPUTING HISTORY

!!! This item is WANTED to join the collection !!!
Item