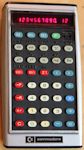 AKA: commodore, AKA (Label): Solid State Portable, Electronic Calculator, MODEL SR-9120D,
Date of intro: 1975, Origin: Japan (List), Dimensions: 140x75x30mm, Weight: 130g,
Power: 9V + Adaptor, Adaptor: COMMODORE_adaptors: DC640B; COMMODORE_adaptors: 707C; COMMODORE_adaptors: 708C; COMMODORE_adaptors: 709C,
Display: Type = Display (LED) (List), Digits = 8+1+(2+1),
Number of keys: 39, #Key-Blue: 10, #Key-Green: 1, #Key-Red: 7, #Key-White: 21,
Miscellaneous switch: [ON-(Blank)],
Classification: / Pocket,
Featuring: Scientific functions, Square root, PI,
Main Components: COMMODORE: GHU02A,
Other components: COMMODORE: GHU01A,
Serie-members: COMMODORE: SR9120D (version-1) ('cbm'-notation); COMMODORE: SR9120D (version-2) ('commodore'-notation, Oval keys ); COMMODORE: SR9120D (version-3) ('commodore'-notation, Square keys),
Known Serial-numbers: 00946 | 02748 | 03697 (List of all S/Ns from COMMODORE)
Collector value: 8/10,
Internet: Link-1: LE RAYON DES CALCULATRICES

!!! This item is WANTED to join the collection !!!
Item