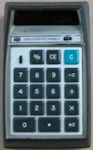 AKA (Label): TYP: K-106 P, Product number (P/N): K106P (K-106 P),
Keywords/Tags: K106P (K-106 P)
Date of intro: ~1973, Origin: Hungary (List), Dimensions: 135x80x40mm, Weight: 265g,
Display: Type = Display (LED) (List), Brand = BOWMAR: Optostic, Digits = 10+1,
Keyboard: KLIXON, Number of keys: 18, #Key-Black: 17, #Key-Blue: 1,
Miscellaneous switch: [K-(Blank)],
Classification: / Pocket,
Featuring: Memories: 1,
Main Components: BOWMAR: PM9014050,
Original Equipment Manufacturer : BOWMAR: 90152, Resemblance with: (Resemblance 001), Made by: BOWMAR (List of all Import-OEM-models for HIRADASTECHNIKA SZOVETKEZET),
Collector value: 8/10,
Courtesy of: SIMON David,
Internet: Link-1: VIRTUAL MUSEUM OF CALCULATORS

!!! This item is WANTED to join the collection !!!
Item