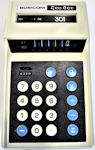 Product number (P/N): 301,
Keywords/Tags: 301
Date of intro: ~1972, Origin: Japan (List),
Power: 6V: (AA x4) + Adaptor, Adaptor: BUSICOM_adaptors: 100-002,
Display: Type = Display (VFD tube) (List), Digits = 6,
Number of keys: 18, #Key-Blue: 7, #Key-White: 11,
Keyboard Array (Rows x Columns): 05x04,
Decimal switch: [4-3-2-0], Miscellaneous switch: [OFF-ON], Indicators: UP NEG,
Classification: / Desktop with Display,
Related with: BUSICOM_docu: (Instr.) 301; BUSICOM_parts: (Box) 301,
Original Equipment Manufacturer : BUSICOM: 60DA, Made by: BUSICOM (List of all Import-OEM-models for LEO D'OR),
Serie-members: LEO D'OR: 300; LEO D'OR: 301,
Known Serial-numbers: 51FJ120071 | 51FJ121717 | 51FJ122298 (List of all S/Ns from LEO D'OR)
Collector value: 8/10,

!!! This item is WANTED to join the collection !!!
Item