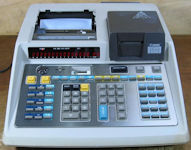 AKA: Canola SX-105, AKA (Label): CANOLA SX-105, Product number (P/N): SX105 (SX-105),
Keywords/Tags: SX105 (SX-105) | Canola
Date of intro: ~1976, Origin: Japan (List),
Power: AC,
Number of keys: 74, #Key-Black: 3, #Key-Blue: 1, #Key-Grey: 67, #Key-Yellow: 3,
Round switch: [(ArrowUp)-5/4-(ArrowDown)], Miscellaneous switch: [DEG-RAD-GRAD-DMS],
Printing technology: Printer (thermal),
Classification: / Desktop with Display+Printer / Card reader,
Featuring: Scientific functions, Square root, PI, Programmable,
Serie-members: CANON: SX100 (20-100 Mems, 200-1000 ProgSteps); CANON: SX105 (); CANON: SX300 (); CANON: SX310 (50-500 Mems, 5000-4000 ProgSteps); CANON: SX320 (); CANON: SX320II (),
Collector value: 8.5/10,

!!! This item is WANTED to join the collection !!!
Item