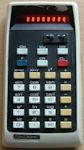 AKA: 3001M Scientific, AKA (Label): FINANCIAL, Electronic Calculator, Product number (P/N): 3001M,
Keywords/Tags: 3001M | Scientific
Date of intro: ~1974, Origin: Taiwan (List),
Display: Type = Display (LED) (List),
Number of keys: 26, #Key-Blue: 1, #Key-Beige: 8, #Key-Red: 1, #Key-White: 16,
Miscellaneous switch: [(ArrowRight)-ON C-(ArrowLeft)],
Classification: / Pocket,
Featuring: Scientific functions, Square root, PI,
Resemblance with: (Resemblance 014),
Serie-members: PRINZTRONIC: 3001M (version-1) (LED-Display); PRINZTRONIC: 3001M (version-2) (VFD-Display),
Collector value: 8/10,

!!! This item is WANTED to join the collection !!!
Item