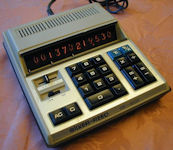 AKA: SE-802, Product number (P/N): SE802 (SE-802),
Keywords/Tags: SE802 (SE-802)
Date of intro: ~1972, Origin: Japan (List),
Power: AC,
Display: Type = Display (Nixie) (List),
Number of keys: 19, #Key-Black: 17, #Key-Blue: 2,
Keyboard Array (Rows x Columns): 04x05, Keyboard Layout: [7] [8] [9] [T1] [T2/K] - [4] [5] [6] [x] [(Division)] - [1] [2] [3] [=+] [=-] - [AC] [C] [0] [.],
Decimal switch: [6-4-3-2-1-0], Round switch: [5/4-CUT],
Classification: / Desktop with Display,
Featuring: Logic-technology: LSI (Large Scale Integration), calculator-chipset,
Original Equipment Manufacturer : CASIO: 202A, Resemblance with: (Resemblance 521B), Made by: CASIO (List of all Import-OEM-models for SILVER-REED),
Collector value: 8.5/10,
Courtesy of: BLOEMEN Hans,

!!! This item is WANTED to join the collection !!!
Item