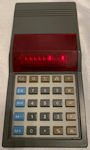 AKA (Label): OKU 205, Product number (P/N): OKU205,
Keywords/Tags: OKU205
Date of intro: 1982, Origin: Czechoslovakia (List), Dimensions: 165x80x25mm, Weight: 140g,
Display: Type = Display (LED) (List), Brand = TESLA: VQB30, Digits = 8+1, Extra Display features: Type = Display (LED: as bulb) (List), Quantity = 1,
Number of keys: 25, #Key-Black: 11, #Key-Blue: 4, #Key-Brown: 10,
Keyboard Array (Rows x Columns): 05x05,
Classification: / Pocket,
Featuring: Procent, Square root, Logic-technology: VLSI (Very Large Scale Integration), calculator-on-a-Chip, Memories: 1,
Related with: TESLA_parts: (Box) OKU205,
Main Components: TESLA: MHB7001,
Other components: TESLA: MHB1082,
Known Serial-numbers: 82461 (List of all S/Ns from TESLA)
Collector value: 8/10,
Courtesy of: POLÁK Karel,
Internet: Link-1: KOMPJUTRY

!!! This item is WANTED to join the collection !!!
Item
Bottom / Battery compartment
(Courtesy of: POLÁK Karel)

Internals
(Courtesy of: POLÁK Karel)

Internals
(Courtesy of: POLÁK Karel)

Internals (display)
(Courtesy of: POLÁK Karel)

Internals (display)
(Courtesy of: POLÁK Karel)

Protection (pouche)
(Courtesy of: POLÁK Karel)