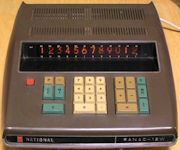 AKA: NATIONAL, PANAC-12W, AKA (Label): ELECTRONIC CALCULATOR, TYPE JE-240, Product number (P/N): JE240 (JE-240),
Keywords/Tags: JE240 (JE-240) | 240 | 12W (PANAC-12W)
Date of intro: nov-1969, Origin: Japan (List), Dimensions: 365x326x114mm, Weight: 6000g,
Power: AC,
Display: Type = Display (Nixie) (List), Digits = 12,
Number of keys: 24, #Key-Blue: 6, #Key-Grey: 7, #Key-White: 11,
Classification: / Desktop with Display / Memory (delay line),
Featuring: Memory-technology: Memory (delay line),
Related with: PANASONIC_docu: (Broch.) JE240 (Japanese),
Original Equipment Manufacturer : PANASONIC: JE240 (List of all Export-OEM-models from PANASONIC), Resemblance with: RICOH: 2420,
Collector value: 9/10,
Courtesy of: DENTAKU MUSEUM Japan,
Internet: Link-1: DENTAKU MUSEUM

!!! This item is WANTED to join the collection !!!
Item