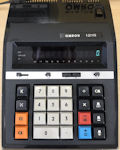 AKA (Label): ELECTRONIC CALCULATOR, TYPE 1215, Product number (P/N): 1215,
Keywords/Tags: 1215
Date of intro: ~1975, Origin: Japan (List),
Power: AC,
Display: Type = Display (VFD) (List),
Number of keys: 25, #Key-Black: 10, #Key-Blue: 1, #Key-Orange: 2, #Key-Red: 1, #Key-White: 11,
Decimal switch: [F-0-1-2-3], Round switch: [(Blank)-5/4], Miscellaneous switch: [(Blank)-A],
Classification: / Desktop with Display,
Featuring: Procent, Square root,
Original Equipment Manufacturer : OMRON: 1215 (List of all Export-OEM-models from OMRON), Resemblance with: TRIUMPH-ADLER: 1215S (version-1), (Resemblance 526),
Collector value: 7.5/10,

!!! This item is WANTED to join the collection !!!
Item