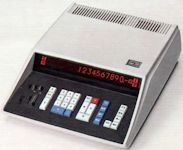 AKA: Compet 361P, Product number (P/N): CS361P (CS-361P),
Keywords/Tags: CS361P (CS-361P) | 361P | Compet
Date of intro: apr-1970, Dimensions: 421x340x119mm, Weight: 7500g,
Power: AC,
Display: Type = Display (Nixie) (List), Digits = 16,
Number of keys: 28, #Key-Blue: 6, #Key-Red: 1, #Key-White: 21,
Keyboard Array (Rows x Columns): 04x09,
Indicators: S H (Minus) E I II,
Classification: / Desktop with Display,
Featuring: Square root, Programmable, Logic-technology: SSI (Small Scale Integration) / JMOS (Japanese MOS), Memories: 2, Programmable Steps: 64,
Related with: SHARP_docu: (Ad.) *: 91% of Fortune's 100..; SHARP_docu: (Cat.) 1969 (Japanese),
Known Serial-numbers: 07082008 (List of all S/Ns from SHARP)
Initial Cost Price: 315000 JPY (€ 2.551,50), Collector value: 8.5/10,
Intro-Sequence #: 25, Predecessor: SHARP: CS761, Successor: SHARP: CS641

!!! This item is WANTED to join the collection !!!
Item