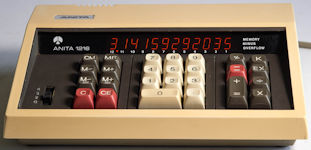 AKA: ROCKWELL Anita, AKA (Label): MODEL No 1216, Product number (P/N): 1216,
Keywords/Tags: 1216 | ROCKWELL | Anita
Date of intro: 1973, Origin: United Kingdom (List), Dimensions: 256x193x70mm,
Power: AC,
Display: Type = Display (Gas disharge) (List),
Keyboard: Computer-Keyboard keys with keycaps, Number of keys: 26, #Key-Grey: 12, #Key-Red: 3, #Key-White: 11,
Keyboard Array (Rows x Columns): 04x07,
Decimal switch: [0-2-3-4], Indicators: MEMORY MINUS OVERFLOW,
Classification: / Desktop with Display,
Featuring: Procent, Logic-technology: LSI (Large Scale Integration), calculator-chipset,
Main Components: ELECTRONIC ARRAYS: EA7022; ELECTRONIC ARRAYS: EA7023,
Resemblance with: UNICOM: 1216,
Known Serial-numbers: 91773421 (917734-21) (List of all S/Ns from SUMLOCK ANITA ELECTRONICS)
Collector value: 8,5/10,
Courtesy of: RICHMOND Tim,
Internet: Link-1: ANITA CALCULATORS

!!! This item is WANTED to join the collection !!!
Item