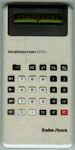 AKA: statesman thin, AKA (Label): CAT. NO. 65-623 MODEL EC-245, Product number (P/N): 65623 (65-623),
Keywords/Tags: 65623 (65-623) | EC245 (EC-245) | statesman thin
Date of intro: 1977, Origin: Taiwan (List), Dimensions: 140x76x13mm, Weight: 120g,
Power: Rechargeable,
Display: Type = Display (VFD) (List), Digits = 8+1,
Number of keys: 28, #Key-Black: 16, #Key-Red: 1, #Key-White: 11,
Classification: / Pocket,
Featuring: Procent, Square root, Logic-technology: VLSI (Very Large Scale Integration), calculator-on-a-Chip, Memories: 4,
Known Serial-numbers: 1067640 (List of all S/Ns from RADIO SHACK)
Collector value: 7/10,
Courtesy of: CALCUSEUM (Serge DEVIDTS),
Info: 4-key memory, Can handle two problems at once - one in memory, one on the display.
Item