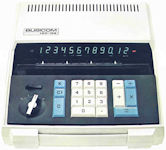 AKA: 120-DA, AKA (Label): 120-DA, ElectroTecchnical Industries, Product number (P/N): 120DA (120-DA),
Keywords/Tags: 120DA (120-DA)
Date of intro: apr-1969, Origin: Japan (List), Dimensions: 295x258x108mm, Weight: 3000g,
Power: AC,
Display: Type = Display (VFD tube) (List), Digits = 12,
Number of keys: 19, #Key-Blue: 6, #Key-White: 13,
Keyboard Array (Rows x Columns): 04x06, Keyboard Layout: [K] [7] [8] [9] [-] [(Division)] - [CI] [4] [5] [6] [+] [x] - [C] [1] [2] [3] - [0] [.] [=],
Decimal switch: [0-1-2-3],
Classification: / Desktop with Display,
Featuring: Logic-technology: SSI (Small Scale Integration) / JMOS (Japanese MOS),
Related with: BUSICOM_docu: (Broch.) 120DA,
Serie-members: BUSICOM: 120DA ([0-1-2-3]-dec.switch); BUSICOM: 120DB ([0-2-3-4]-dec.switch),
Known Serial-numbers: RQ121592 (RQ 121-592) (List of all S/Ns from BUSICOM)
Collector value: 8/10,
Info: (From Brochure): This light weight super mini machine is equipped with all elements of a desk-top calculator!
Within the limit of the definition of electronic desk-top calculator: Compact size, light weight, lower price, easy to use, wide application.
These were the aims of our research and efforts for many years.
BUSICOM 120DA is a basic machine for all Electronic Desk-top Calculators in this sense and is equipped with all qualifications worthy of the one-man-one-machine age.
The most advanced MOS-MSI Because: MSI is used as electronic part, stability of the machine is superior and its size is exceptionally small.
It can conveniently be carried: It weighs only 3 kgs and because it is equipped with transparent keyboard' cover and carrying handle, it can be carried any-where as it is.
It is so small that you can put it snugly in the drawer of your table.
It is a new machine suitable for the one-man-one-machine age: Nothing is more important than the, relationship between man and machine in the offices.
BUSICOM 120DA is designed to give such a light appearance that it may inevitably catch the heart of office ladies. It is so easy to operate that an explanation book is, almost unnecessary.
All operations are entered on the keyboard exactly as though they were written on a sheet paper: This is an epochal progress never adopted in other type of machines.
Anybody can operate immediately without hearing ex-planation on functions of each key.
Calculation by constant: It is possible to add, deduct, multiply and divide by constant. Its functions have been greatly increased.
It can automatically be cleared.
True negative figures are automatically indicated: When result of entry or calculation is negative figures, the minus lamp is lit indicating the true figures.
It is the first time that this function was provided in this type of utility machine.
No-more-calculation-upon-overflow system was newly adopted: A new system in which zero appears in all digits when the lamp is lit because of overflow has been adopted.
Because over-flow at the time of entry is also checked, miscalculation is prevented.
Mistake in functioning can be corrected: Miss touch on + — x = keys can easily be corrected by re-touching the correct keys in succession.
Display tube which is easy to see and does not cause fatigue to the eyes: Display is of green color and appears in one even row.
It is very easy to see and it will not cause fatigue to the eyes even if it is used for a long time.

!!! This item is WANTED to join the collection !!!
Item