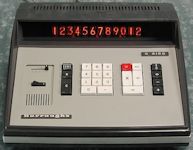 AKA: C 3120, Product number (P/N): C3120 (C 3120),
Keywords/Tags: C3120 (C 3120)
Date of intro: 1968, Origin: Japan (List), Dimensions: 317x294x133mm, Weight: 3400g,
Power: AC,
Display: Type = Display (Nixie) (List), Digits = 12,
Number of keys: 23, #Key-Black: 7, #Key-Red: 1, #Key-White: 15,
Decimal switch: [6-4-3-2-0],
Classification: / Desktop with Display,
Made by: SHARP (List of all Import-OEM-models for BURROUGHS),
Known Serial-numbers: C16863J (C-16863-J) | C28498J (C-28498-J) (List of all S/Ns from BURROUGHS)
Collector value: 9/10,
Courtesy of: TAKAHARU,

!!! This item is WANTED to join the collection !!!
Item