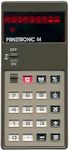 Product number (P/N): M,
Keywords/Tags: M
Date of intro: 1974, Origin: Hong Kong (List), Dimensions: 120x55x17mm, Weight: 65g,
Power: 6V: (AAA x4),
Display: Type = Display (LED) (List), Digits = 8+1,
Number of keys: 19, #Key-Black: 7, #Key-Red: 1, #Key-White: 11,
Miscellaneous switch: [(Sigma)_OFF-ON],
Classification: / Pocket,
Featuring: Procent, Logic-technology: VLSI (Very Large Scale Integration), calculator-on-a-Chip,
Resemblance with: (Resemblance 047),
Serie-members: PRINZTRONIC: M (version-1) (19 Keys); PRINZTRONIC: M (version-2) (22 Keys),
Known Serial-numbers: 232973 (List of all S/Ns from PRINZTRONIC)
Collector value: 7.5/10,
Courtesy of: DUDEK Emil,
Internet: Link-1: VINTAGE TECHNOLOGY

!!! This item is WANTED to join the collection !!!
Item