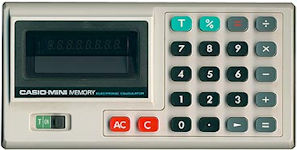 AKA: MINI MEMORY ELECTRONIC CALCULATOR, Product number (P/N): MINI MEMORY,
Keywords/Tags: MINI MEMORY | ELECTRONIC CALCULATOR
Date of intro: 1974, Origin: Japan (List), Dimensions: 156x82x33mm, Weight: 185g,
Power: 6V: (AA x4) + Adaptor, Adaptor: CASIO_adaptors: AD4145,
Display: Type = Display (VFD) (List), Digits = 8,
Number of keys: 22, #Key-Grey: 9, #Key-Red: 2, #Key-White: 11,
Classification: / Pocket,
Featuring: Procent, Logic-technology: VLSI (Very Large Scale Integration), calculator-on-a-Chip,
Main Components: CASIO: A8Z1A,
Original Equipment Manufacturer : CASIO: Mini Memory (List of all Export-OEM-models from CASIO), Resemblance with: REMINGTON: 833GT, (Resemblance 095),
Serie-members: CASIO: Mini Memory (version-1) (Dark keyboard); CASIO: Mini Memory (version-2) (Light keyboard),
Collector value: 7.5/10,
Courtesy of: DUDEK Emil,
Internet: Link-1: VINTAGE TECHNOLOGY

!!! This item is WANTED to join the collection !!!
Item