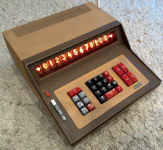 Product number (P/N): 203B,
Keywords/Tags: 203B
Date of intro: ~1976, Origin: Poland (List),
Power: AC,
Display: Type = Display (Nixie) (List),
Number of keys: 31, #Key-Black: 11, #Key-Grey: 8, #Key-Red: 11, #Key-White: 1,
Classification: / Desktop with Display,
Featuring: Square root, Memory-technology: Memory (core),
Collector value: 9/10,
Courtesy of: KREZEL Krzysztof,
Info: Presented in 1976 during the International Exhibition of the Office Technology 'INTERBIURO-76' in Poznan (Poland).
One of the first polish calculators for scientific calculations supporting 3 registers.
It was possible to connect a punched tape reader and automatically calculate data saved on it.

!!! This item is WANTED to join the collection !!!
Item