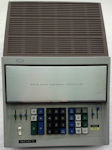 AKA: SOLID STATE ELECTRONIC CALCULATOR, SOBAX 2500, AKA (Label): SOBAX ICC-2500E, ELECTRONIC CALCULATOR, Product number (P/N): ICC2500E,
Keywords/Tags: ICC2500E | SOLID STATE ELECTRONIC CALCULATOR | SOBAX
Date of intro: 1970, Origin: Japan (List), Dimensions: 400x280x145mm, Weight: 8000g,
Power: AC,
Display: Type = Display (Nixie) (List), Brand = HITACHI: CD81, Digits = 15,
Number of keys: 30, #Key-Black: 11, #Key-Blue: 8, #Key-Green: 3, #Key-Grey: 2, #Key-White: 6,
Keyboard Array (Rows x Columns): 04x08, Keyboard Layout: [R] [(Division)] [7] [8] [9] [C ALL] [(ArrowLeft)] [(ArrowRight)] - [M OUT] [x] [4] [5] [6] [C ENT] [M] [D] - [S] [=] [1] [2] [3] [-] [M C] [J] - [0] [.] [CHG SIGN] [+] [M IN] [(SquareRoot)],
Decimal switch: [4-2-0], Round switch: [(ArrowUp)-5/4-(ArrowDown)], Miscellaneous switch: [LEARN-AUTO-MAN. CHECK-OPE. READ-T-OFF],
Classification: / Desktop with Display / Memory (delay line),
Featuring: Square root, Programmable, Logic-technology: SSI (Small Scale Integration), Memories: 8, Memory-technology: Memory (delay line), Programmable Steps: 111,
Related with: SONY_docu: (Ad.) Das sind die Nullen der Konkurenz; SONY_docu: I12347TH010R2R1 (Brochure); SONY_docu: (Broch.) ICC2500E,
Main Components: (250 Monolithic ICs, 79 Transitors, 117 Diodes),
Serie-members: SONY: ICC2500; SONY: ICC2500E; SONY: ICC2500W,
Known Serial-numbers: 630211 (List of all S/Ns from SONY)
Collector value: 9/10,
Courtesy of: CALCUSEUM (Serge DEVIDTS),
Info: Versatility program storage, up to 111 operating steps possible with checking of stored program and correction of mistakes possible, too.
Jump key function for wider range of applications in calculation.
Seven registers for memory and one for total.
15 Regsiters.
Easy-to-read numeral display not cluttered up with unnecessary zeros.
Automatic square root key to obtain square root of any number.
Automatic round off and decimal point entry.
Bipolar integrated circuits.
Item