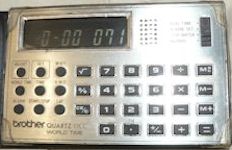 AKA: QUARTZ 11CC, WORLD TIME, AKA (Label): MODEL 11CC, Product number (P/N): 11CC,
Keywords/Tags: 11CC | QUARTZ 11CC | WORLD TIME
Date of intro: 1982, Origin: Japan (List),
Display: Type = Display (LCD reverse) (List),
Number of keys: 32, #Key-Black: 32,
Miscellaneous switch: [DUAL TIME-ALARM SET-STOP WATCH-NORMAL],
Classification: / Credit Card / Time,
Featuring: Procent, Square root, Logic-technology: VLSI (Very Large Scale Integration), calculator-on-a-Chip,
Main Components: NEC: D1030G,
Serie-members: BROTHER: 11CC (version-1) (Reverse LCD-display); BROTHER: 11CC (version-2) (LCD-display),
Known Serial-numbers: A2012614 (List of all S/Ns from BROTHER)
Collector value: 7,5/10,
Courtesy of: URZHUMSTSEV Oleg,

!!! This item is WANTED to join the collection !!!
Item