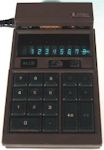 AKA: ELCA 180A, HI.LSI, AKA (Label): DESK TOP ELECTRONIC CALCULATOR, TYPE KK FORM 180A, ND195, Product number (P/N): ND195,
Keywords/Tags: ND195 | KK180A | ELCA, HI.LSI
Date of intro: 1973,
Display: Type = Display (VFD tube) (List), Digits = 8+1,
Number of keys: 17, #Key-Black: 17,
Decimal switch: [0-2-4], Miscellaneous switch: [(Blank)-K],
Classification: / Desktop with Display,
Featuring: Logic-technology: VLSI (Very Large Scale Integration), calculator-on-a-Chip,
Main Components: HITACHI: HD3276P,
Original Equipment Manufacturer : HITACHI: KK180A (List of all Export-OEM-models from HITACHI), Resemblance with: FRIDEN: 1009,
Collector value: 8/10,

!!! This item is WANTED to join the collection !!!
Item