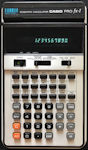 AKA: MAG CARD SCIENTIFIC CALCULATOR PRO fx-1, Product number (P/N): FX1 Pro,
Keywords/Tags: FX1 Pro | Pro
Date of intro: sep-1977, Origin: Japan (List), Dimensions: 196x115x35mm, Weight: 386g,
Power: 6V: (AA x4) + Adaptor, Adaptor: CASIO_adaptors: AD4160,
Display: Type = Display (VFD) (List), Digits = 14,
Number of keys: 43, #Key-Black: 31, #Key-Grey: 10, #Key-Orange: 2,
Classification: / Pocket / Card (magnetic) / Fortran,
Featuring: Scientific functions, Square root, PI, Programmable, Logic-technology: LSI (Large Scale Integration), calculator-chipset, Memories: 11, Programmable Steps: 127,
Related with: CASIO_docu: (Book) CASIO programmable Scientific Calc. (FX1,FX201P,PX202P); CASIO_docu: (Ad.) *: These will take a weight... (FX1,FX21,FX201P,FX1000),
Main Components: HITACHI: HD36106; HITACHI: HD36136; HITACHI: HD36162; HITACHI: HD37603,
Resemblance with: (Resemblance 096C),
Collector value: 8.5/10,
Internet: Link-1: DATAMATH CALCULATOR MUSEUM, Link-2

!!! This item is WANTED to join the collection !!!
Item