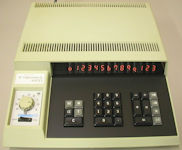 AKA: TEKNIKA 1400, Product number (P/N): 1400,
Keywords/Tags: 1400 | TEKNIKA
Date of intro: 01-apr-1969, Dimensions: 380x330x95mm, Weight: 4500g,
Power: AC,
Display: Type = Display (Gas disharge tube) (List), Digits = 14, Extra Display features: Type = Display (Neon bulb) (List), Quantity = 2,
Number of keys: 25,
Decimal switch: [DECIMAL_0-3-6], Round switch: [ROUND OFF_(ArrowDown)-0-1-2-3-4-5-6-9],
Classification: / Desktop with Display / Memory (core),
Featuring: Procent, Memory-technology: Memory (core),
Main Components: MITSUBISHI: M5930; MITSUBISHI: M5944; MITSUBISHI: M5945; MITSUBISHI: M5946; MITSUBISHI: M5962; MITSUBISHI: *,
Resemblance with: PRECISA: G14; SANDIKEN: G14,
Collector value: 8.5/10,
Courtesy of: FREDRICH Rainer,

!!! This item is WANTED to join the collection !!!
Item