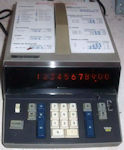 AKA (Label): SOBAX ICC-400W, SOLID STATE CALCULATOR, Product number (P/N): ICC400W (ICC-400W),
Keywords/Tags: ICC400W (ICC-400W) | SOBAX | 400, SOLID STATE CALCULATOR
Date of intro: 1967, Origin: Japan (List),
Power: AC,
Display: Type = Display (Nixie) (List), Digits = 14,
Number of keys: 22, #Key-Blue: 5, #Key-Grey: 6, #Key-White: 11,
Keyboard Array (Rows x Columns): 04x08, Keyboard Layout: [R] [(Division)] [7] [8] [9] [C] [M C] - [M OUT] [x] [4] [5] [6] [-] [M IN] - [CLEAR] [=] [1] [2] [3] [+] - [0] [.],
Round switch: [5/4-N],
Classification: / Desktop with Display / Memory (delay line),
Featuring: Logic-technology: Hybride circuits modules, Memory-technology: Memory (delay line),
Related with: SONY_docu: 4-503-895-21 1 (Instr.) ICC400W,
Known Serial-numbers: 301069 | 302024 | 600922 (List of all S/Ns from SONY)
Initial Cost Price: USD995, Collector value: 9/10,
Info: First SONY calculator
Internet: Link-1: THE OLD CALCULATOR MUSEUM, Link-2: VINTAGE CALCULATORS WEB MUSEUM, Link-3: DENTAKU MUSEUM

!!! This item is WANTED to join the collection !!!
Item