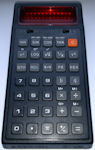 AKA: BRDA 14S, Product number (P/N): BRDA14S (BRDA 14S),
Keywords/Tags: BRDA14S (BRDA 14S)
Date of intro: 1975, Origin: Poland (List),
Power: 9V: (AA x6),
Display: Type = Display (LED) (List), Brand = NATIONAL SEMICONDUCTOR: A2170, Digits = 12,
Number of keys: 35, #Key-Black: 11, #Key-Grey: 23, #Key-Orange: 1,
Miscellaneous switch: [D-R 0-1],
Classification: / Pocket,
Featuring: Scientific functions, Square root, PI, Logic-technology: VLSI (Very Large Scale Integration), calculator-on-a-Chip,
Related with: UNITRA-ELTRA_docu: (Schematics) BRDA14S,
Main Components: MOS TECHNOLOGY: MPS7529,
Collector value: 7/10,
Courtesy of: KREZEL Krzysztof,

!!! This item is WANTED to join the collection !!!
Item