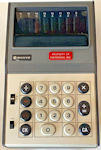 AKA (Label): MODEL ICC-808D, ELECTRONIC CALCULATOR, Product number (P/N): ICC808D (ICC-808D),
Keywords/Tags: ICC808D (ICC-808D)
Date of intro: 1972, Origin: Japan (List), Dimensions: 180x110x55mm, Weight: 500g,
Adaptor: SANYO_adaptors: CU808,
Display: Type = Display (Gas disharge tube) (List), Digits = 8+1,
Number of keys: 18, #Key-Black: 7, #Key-White: 11,
Decimal switch: [4-2-0],
Classification: / Desktop with Display,
Featuring: Logic-technology: LSI (Large Scale Integration), calculator-chipset,
Related with: SANYO_docu: (Ad.) *: Die Rechenminute... (ICC805,ICC808D,ICC1122,ICC1406P),
Main Components: SANYO: 08DM2B,
Known Serial-numbers: 5001847S (5001847 S) | 7001410S (7001410 S) | 7003456S (7003456 S) | 7004568S (7004568 S) | 7005276S (7005276 S) | 7006609S (7006609 S) (List of all S/Ns from SANYO)
Initial Cost Price: USD115.95, Collector value: 8/10,
Internet: Link-1: CURTAMANIA, Link-2

!!! This item is WANTED to join the collection !!!
Item