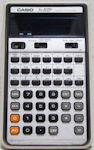 AKA: fx-202P, SCIENTIFIC CALCULATOR, Product number (P/N): fx202P (fx-202P),
Keywords/Tags: fx202P (fx-202P) | SCIENTIFIC CALCULATOR
Date of intro: ~1977,
Adaptor: CASIO_adaptors: AD4145,
Display: Type = Display (VFD) (List), Brand = TOSHIBA: E6543, Digits = 14,
Number of keys: 43, #Key-Black: 31, #Key-Grey: 10, #Key-Orange: 2,
Keyboard Array (Rows x Columns): 07x07,
Miscellaneous switch: [MANUAL-PROGRAM_COMP-PROGRAM_WRITE RAD-DEG-GRAD],
Classification: / Pocket,
Featuring: Scientific functions, Square root, Programmable, Logic-technology: LSI (Large Scale Integration), calculator-chipset,
Related with: CASIO_docu: (Book) CASIO programmable Scientific Calc. (FX1,FX201P,PX202P),
Main Components: HITACHI: HD36106; HITACHI: HD36136; TOSHIBA: TC5006P,
Resemblance with: (Resemblance 096C),
Collector value: 7.5/10,
Internet: Link-1: VIRTUAL MUSEUM OF CALCULATORS

!!! This item is WANTED to join the collection !!!
Item