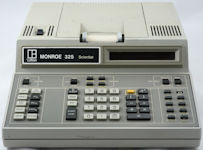 AKA: Litton MONROE 325 Scientist, AKA (Label): MODEL 325, Product number (P/N): 325,
Keywords/Tags: 325 | Litton MONROE | Scientist
Date of intro: 1975, Dimensions: 350x290x110mm, Weight: 6000g,
Power: AC,
Display: Type = Display (PANAPLEX II) (List),
Number of keys: 49, #Key-Black: 27, #Key-White: 21, #Key-Yellow: 1,
Miscellaneous switch: [PRINTER_ON-OFF RUN-STEP-LOAD TAPE WRITE_PROGRAM-REGISTERS GRAD-DEG],
Classification: / Desktop with Display+Printer / Converter,
Featuring: Scientific functions, Programmable, Programmable Steps: 416,
Related with: MONROE: 395 (Teleprinter Interface),
Original Equipment Manufacturer : COMPUCORP: 325, Made by: COMPUCORP (List of all Import-OEM-models for MONROE),
Known Serial-numbers: 5252053 | 5252075 (List of all S/Ns from MONROE)
Initial Cost Price: DEM6990, Collector value: 8/10,
Internet: Link-1: VINTAGE CALC

!!! This item is WANTED to join the collection !!!
Item