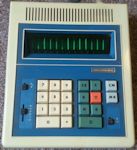 AKA (Label): MODEL MC65, ELECTRONIC CALCULATOR, Product number (P/N): MC65,
Keywords/Tags: MC65
Date of intro: 1972, Origin: Japan (List), Dimensions: 235x196x62mm,
Power: AC,
Display: Type = Display (VFD tube) (List), Digits = 12+1,
Number of keys: 20, #Key-Blue: 8, #Key-Red: 1, #Key-White: 11,
Decimal switch: [6-4-3-2-1-0], Round switch: [5/4-(ArrowDown)], Miscellaneous switch: [(Sigma)-N],
Classification: / Desktop with Display,
Featuring: Logic-technology: LSI (Large Scale Integration), calculator-chipset, Memories: 1,
Related with: PRINZTRONIC_docu: (Ad.) *: If you have to add cash figures...,
Main Components: HITACHI: HD32128P; HITACHI: HD32129P,
Made by: SHARP (List of all Import-OEM-models for PRINZTRONIC),
Collector value: 8/10,
Internet: Link-1: VINTAGE CALCULATORS WEB MUSEUM

!!! This item is WANTED to join the collection !!!
Item