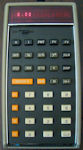 Product number (P/N): 70,
Keywords/Tags: 70
Date of intro: 1974,
Display: Type = Display (LED) (List),
Number of keys: 35, #Key-Black: 7, #Key-Grey: 10, #Key-Orange: 6, #Key-White: 12,
Miscellaneous switch: [OFF-ON],
Classification: / Pocket,
Featuring: Procent,
Related with: (Docu_Articles): 197412: Calculators get smaller, smarter and cheaper,
Known Serial-numbers: 1431A04671 (1431A, 04671) | 1431S03978 (1431S, 03978) (List of all S/Ns from HP_calcs)
Initial Cost Price: USD275.00, Collector value: 8/10,
Courtesy of: VAN ZANDWEGHE Eduardo,
Internet: Link-1: THE MUSEUM OF HP CALCULATORS

!!! This item is WANTED to join the collection !!!
Item