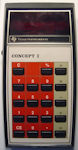 AKA: CONCEPT I, Product number (P/N): CONCEPT I,
Keywords/Tags: CONCEPT I | I
Date of intro: mar-1976, Origin: USA (List), Dimensions: 145x69x36mm,
Power: 9V, Adaptor: TEXAS INSTRUMENTS_adaptors: AC9180,
Display: Type = Display (LED) (List), Digits = 8+1,
Number of keys: 19, #Key-Black: 19,
Keyboard Array (Rows x Columns): 05x04,
Classification: / Pocket,
Featuring: Procent, Logic-technology: VLSI (Very Large Scale Integration), calculator-on-a-Chip,
Related with: ZAYRE_parts: (Box) Concept I,
Main Components: TEXAS INSTRUMENTS: TMS0972,
Made by: TEXAS INSTRUMENTS (List of all Import-OEM-models for ZAYRE),
Known Serial-numbers: 1012492 | 10148664376LTA (1014866, 4376 LTA) | 1016574 | 10241590876LTA (1024159, 0876LTA) (List of all S/Ns from ZAYRE)
Collector value: 8/10,
Internet: Link-1: DATAMATH CALCULATOR MUSEUM

!!! This item is WANTED to join the collection !!!
Item