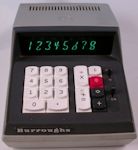 AKA (Label): C 3260 SERIES, Product number (P/N): C3260 (C 3260),
Keywords/Tags: C3260 (C 3260)
Date of intro: 1971, Origin: Japan (List), Dimensions: 254x159x89mm,
Power: AC,
Display: Type = Display (Itron/Digitron) (List), Brand = ISEDEN: DG12B,
Number of keys: 17, #Key-Black: 2, #Key-Red: 1, #Key-White: 14,
Classification: / Desktop with Display,
Featuring: Logic-technology: LSI (Large Scale Integration), calculator-chipset, Memories: 1,
Main Components: ROCKWELL: ACM1156; ROCKWELL: AU2271C; ROCKWELL: DC1152; ROCKWELL: NRD2256,
Other components: HITACHI: HD3113P,
Original Equipment Manufacturer : SHARP: EL160, Resemblance with: SHARP: EL160, Made by: SHARP (List of all Import-OEM-models for BURROUGHS),
Known Serial-numbers: C030389101 (C-030389-101) | C031242101 (C-031242-101) | C031430101 (C-031430-101) | C031576101 (C-031576-101) (List of all S/Ns from BURROUGHS)
Initial Cost Price: USD449.00, Collector value: 8/10,
Internet: Link-1: CURTAMANIA, Link-2: THE OLD CALCULATOR MUSEUM

!!! This item is WANTED to join the collection !!!
Item