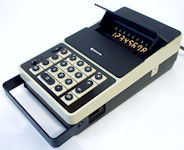 AKA: MINI CALCULATOR, AKA (Label): MODEL ICC-0081,
Date of intro: 1970, Origin: Japan (List), Dimensions: 248x140x69mm, Weight: 1750g,
Power: Rechargeable, Other power-items: SANYO_parts: 5N-1200SCL,
Display: Type = Display (Gas disharge tube) (List), Digits = 8,
Keyboard: Reed-switch, Number of keys: 18,
Indicators: E (ArrowRight),
Classification: / Desktop with Display,
Featuring: Logic-technology: LSI (Large Scale Integration), calculator-chipset,
Certification: 374A(UL) (List All UL's),
Related with: (Articles): 197106: Microelectronics shrinks the calculator,
Main Components: (; SANYO: LM8001E; SANYO: LM8002E; SANYO: LM8003F; SANYO: LM8005A; ); or; (; SANYO: LM8001E; SANYO: LM8002E; SANYO: LM8003G; SANYO: LM8005A; ),
Serie-members: SANYO: ICC0081 (Internal adaptor); SANYO: ICC82D (version-2) (External adaptor),
Known Serial-numbers: 7110701 (List All S/Ns),
Initial Cost Price: USD495.00, Collector value: 8/10,
Internet: Link-1: VINTAGE CALCULATORS WEB MUSEUM

!!! This item is WANTED to join the collection !!!
Item